Restored Wooden Floors Preston
By On February 27, 2017
Under Wood Floor Sanding
We were asked to restore this wooden floor in Preston. This was part of a larger job where we sanded a few different floors within the home. Individual wood finishes were selected for the floors, creating unique spaces.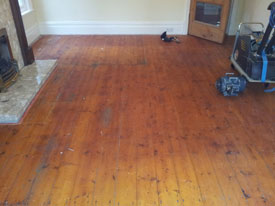 It is true that a wood finish can create an individual statement for any space. The tones and colouration can look different in varying lights and they can range from a dark hue to a clear appearance.
This particular floor had been covered by a carpet for many years. Any carpet application is completed with carpet grippers and adhesive. The carpet gripper strips are often attached to the floor with specialist adhesive. When these are taken up they can provide a real challenge to remove.
Other carpet adhesives can also leave a lot of residue on the surface of the wooden floor. It is important that absolutely all of this is removed prior to finishing the floor. If this were to be left there would be an uneven finishes and the floor would look patchy where the product remained.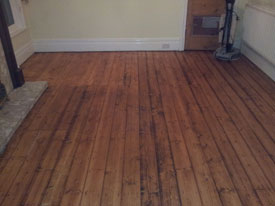 When a carpet has been laid for many years the likelihood is that the adhesives have become brittle. This means that the carpet is easier to remove, however does not mean an easier job for the floor sanders.
Although our professional sanding machinery makes as light work of this process as possible. The floor looked incredible once finished. Our clients wanted a darker finish that brought out the grain pattern of the floor. This provided a stunning look which they were so pleased with.
Beautiful wood floors can be found in many older buildings, hidden under other floor coverings. These floors have such character and can be sanded, repair and finished to offer a striking alternative. Are you considering a floor sanding project? Please call us today on 0800 852 7177.