Maple Floor Restoration Leyland
By On September 25, 2017
Under Wood Floor Sanding
We were asked to fully restore this once beautiful maple floor in Balshaw's in Leyland, Lancashire. It was in a terrible state when we arrived to complete the work. As usual we were able to envisage the completed look so were able to offer confidence to our clients.
Why is Maple used for Sports Halls?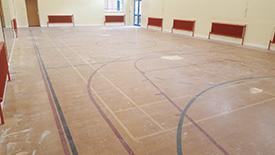 There are exceptions to the rule but generally maple is always used for sports halls and gym floors. This may seem strange but there are many reasons why this is the case. Put simply it is due to maple's hardness rating, its shock absorbance, its beautiful appearance and its availability / affordability.
Having a high hardness rating means that it is less likely to suffer from damage through regular use and wear. Other wood types such as oak or walnut may suffer more damage from heavy athletic use.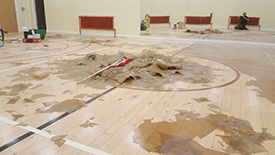 Having a high shock resistance offers a benefit to the users of any particular maple flooring. Heavy athletic stepping or running is hard on individual's joints so a floor that offers a more responsive offers tangible benefits.
As with many other natural wood types, its beautiful grain patterns and overall appearance is both individual and striking. Maple trees are widely grown which means that as a product to install, maple is generally widely available. This tends to mean that it is an affordable material which also works well for its intended users.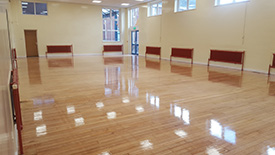 The surface coatings on this particular floor were vast. The above image shows the extent of the coatings that were removed and offers evidence as to why the floor had become so tired-looking.
Once the surface coatings were removed the entire maple floor was sanded and restored. A more natural finish was selected so that the sports hall could be more multi-use.
The result was incredible and we left the flooring looking exquisitely transformed. Call today on 0800 852 7177.